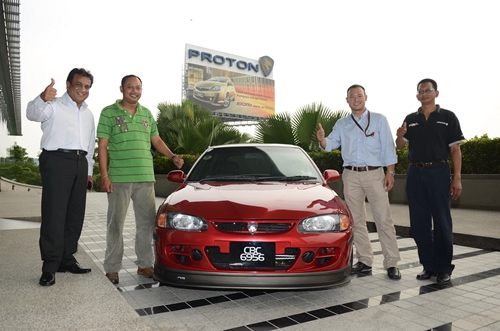 Amirul Azim, pemenang kelima program "My Proton Makeover" baru-baru ini menerima kembali keretanya, Proton Satria 1.3 yang berusia 11 tahun yang telah siap dimakeover oleh Proton Motorsports. Kereta itu diserahkan oleh Pengarah Pemasaran Kumpulan, Penjenamaan dan Permotoran, John D. Chacko dan Tengku Djan Ley Tengku Mahaleel, Ketua Kejuruteraan di unit R3, Divisyen Proton Motorsports di Pusat Kecemerlangan Proton.
Sebagai sebahagian daripada inisiatif "Komited Untuk Menjadi Lebih Baik", sasaran program itu ialah untuk menghargai pelanggan setia Proton dengan menghadiahkan makeover untuk kereta mereka.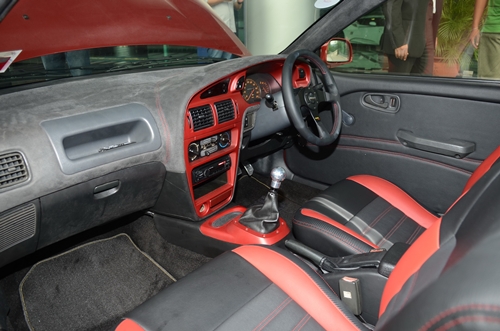 Amirul yang berasal dari Petaling Jaya dan bekerja di syarikat teknologi maklumat hanya memiliki sebuah kereta setakat ini bermula dari zaman bujang hinggalah mempunyai dua orang anak. Beliau menggunakan Satria tersebut untuk berulang alik dari Cyberjaya dan Kuantan bagi melawat ibu bapanya.
Berdasarkan Proton Satria yang telah siap dimakeover tersebut, Tengku Djan berasa gembira dengan hasil kerja stafnya.
"Apabila Amirul menyerahkan keretanya kepada kami, beliau berkongsi kekagumannya terhadap Proton dan hasil kerja staf R3. Beliau meminati Proton Satria Neo R3 dan kami membuat keputusan untuk mengecat Satria miliknya dengan warna Fire Red, kit badan Satria GTI dan splitter edisi terhad R3," kata Tengku Djan.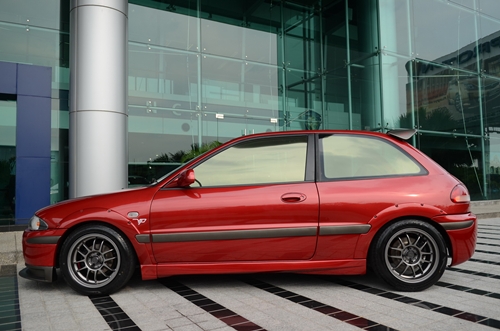 Perubahan lain yang dilakukan oleh R3 ialah baik pulih enjin (overhaul), modifikasi minor untuk peningkatan kuasa, sistem coil-over baharu untuk pengendalian yang lebih baik dan menggantikan brek dram kepada brek cakera untuk pemberhentian kereta yang lebih berkesan.
Apa yang pasti, Proton Satria 1.3 ini memang kelihatan segar dan siapa sangka perubahan yang tidaklah major mana mampu menghasilkan suatu yang impresif. Jika kos makeover sebegini tidak mahal mana pasti ramai yang inginkan hasil yang serupa untuk Satria pekak mereka. Tiada apa yang lebih menjimatkan daripada kereta yang dah habis ansuran bulanan, enjin 1.3 manual, berat kereta yang ringan dan paling penting alat ganti tinggi macam bukit!.
SATRIA GETS NEW ZEST IN FIFTH PROTON CAR MAKEOVER
Subang Jaya, 15 May 2012 – Amirul Azim, the fifth winner of the "My PROTON Makeover" program, recently received his newly refurbished 11-year old Proton Satria, which was handed over by PROTON's Director of Group Marketing, Branding & Motorsports, John D. Chacko, and Head of Engineering at R3 unit, PROTON Motorsports Division, Tengku Djan Ley bin Tengku Mahaleel at PROTON's Centre of Excellence.
As part of PROTON's "Committed to Be Better" initiative, the programme's aim was to reward the national automotive manufacturer's faithful customers with a unique car makeover.
"I am sure many Malaysians have witnessed the prowess of PROTON's Motorsports Division at the recent POWER OF ONE event. Our commitment to being better does not end there and we want to continue to let our long standing customers know that our strength as a brand comes as a result of their loyalty. For that, we want to reward them and show our appreciation for their support," said Chacko. "Amirul's love for his Satria and faith in the PROTON brand is clear to us, and I am very happy that we are giving his car more years on the road," he added.
Having owned the one car throughout his life, Petaling Jaya-born Amirul, who works for an IT management company, described his relationship with the Satria as one that has matured over the years. From his bachelor days, subsequently into marriage and now as a father of two, Amirul's Satria has seen many miles with his daily commute to Cyberjaya and regular trips to Kuantan to visit his parents. He attests to being a very proud Proton owner and an avid car collector, albeit on a smaller scale, with a fondness for Hot Wheels die-cast toy cars.
In relating the work on the Proton Satria, Tengku Djan Ley of the R3 unit was very pleased with the results achieved by the team.
"When he handed his car over to us, Amirul expressed his admiration for PROTON and the work done by the R3 team. He mentioned his appreciation towards the Proton Satria Neo R3, so we decided to give his car a Fire Red body colour, along with a Satria GTI body kit and a limited edition R3 race splitter," said Tengku Djan.
Elaborating further, Tengku Djan said that Amirul expressed his joy for fast driving, as well as his long-distance commuting. As such, in overhauling the car's engine, tweaks were made to adjust to Amirul's driving habits to enhance overall performance of his well-loved Satria. To ensure that the car is able to handle the added power, a coil-over system was installed to improve its handling, with the rear brakes being upgraded from drums to discs, giving the Satria better stopping power.
"With regards to the aesthetics, we gave the car's interior a matching red theme, similar to that of the Satria Neo R3. Topping it off, we opted to give Amirul a set of 15-inch wheels, so that the acceleration of his 1.3 litre car will not be compromised. This is definitely an impressive package presented by the R3 team, not just with regards to performance and drivability, but also in its styling," said Tengku Djan.
The car handover was a moment to remember for Amirul, who profusely thanked the R3 team during the ceremony. "This unforgettable gift from PROTON will forever be etched in my heart. The generosity, time and effort that PROTON has given to my car and to me are just immeasurable."
"My PROTON Makeover", in line with PROTON's "Committed to Be Better" campaign, required submissions of personal and heart-warming stories involving contestants and their PROTON cars, with the best stories winning a complete car makeover.