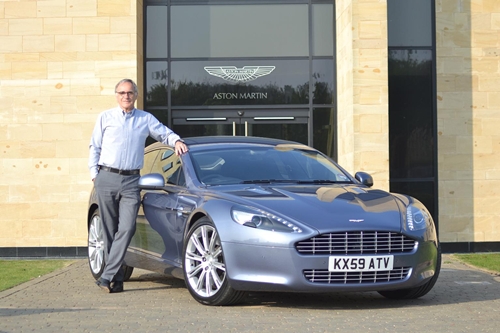 Dr. Ulrich Bez, Ketua Eksekutif Aston Martin akan menyerahkan Rapide kegunaannya kepada rumah lelongan Bonhams di mana hasil jualan kereta itu akan didermakan kepada mangsa Tsunami di Jepun. Bonhams turut bermurah hati dengan tidak mengambil komisyen jualan.
"Tiada yang tidak tersentuh dengan bencana di Jepun dan tidak terkecuali kami di Aston Martin. Selepas bertahun-tahun di pasaran serta hubungan dengan firma automotif Jepun kami mempunyai ramai kenalan di sana dan kami ingin membantu," kata Dr. Ulrich.
Rapide diperkenalkan kepada umum pada September 2009 di Pameran Kereta Frankfurt dan baru-baru ini di calonkan untuk 2011 World Car Design of the Year di Pameran Kereta Antarabangsa New York.
Rapide yang bakal dilelong memegang nombor casis F00039 dan dibina khas sebagai kereta syarikat untuk Dr Ulrich sejak tahun 2010. Kereta spesifikasi mewah itu diwarnakan dengan Concours Blue dengan interior kulit berwarna Obsidian Black dengan sulaman Falcon Grey.
Walaupun entri ini tidaklah resing mana tapi moral di sebaliknya kalau lu orang ada peluang untuk menderma, buat je lah.
-Mak/d Uia-