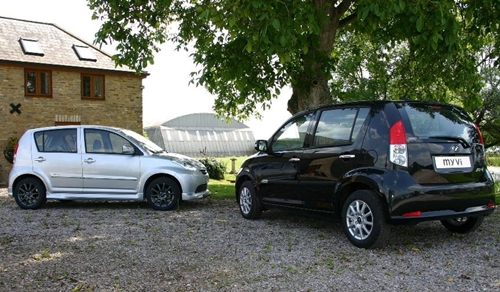 Hari ini hari untuk membersihkan rumah sebab cuti kan. Ke lu orang keje? Baidewei gua ada cerita pasal Perodua Myvi. Jauh sikit ni der sebab ni dari UK. Perodua UK dah bikin 2 jenis Myvi limited edition yang diberi nama Myvi Jet dan Myvi Sport Silver. Dia tak cakap pulak berapa yang limitednya. Myvi Jet ni dia ada chrome handle, side moulding dengan alahai banyak pulak gua nak kena tulis. Jap gua ringkaskan.
Perodua Myvi Jet:
The Myvi Jet features chrome door handles, side mouldings with a stainless steel capping and 'Myvi' motif, remote central locking and 10 spoke 14" silver alloy wheels. Available in ebony black in a choice of manual or automatic transmission, this fantastic looking Myvi is priced from only £7,499*, which represents outstanding value for money.
Perodua Myvi Sport Silver:
The Myvi Sport Silver has the same specification as the popular Myvi Sport including a stylish body kit, colour matched side mouldings, chrome door handles and interior carbon fibre finishes and also includes 10 spoke 15" titanium alloy wheels. Myvi Sport Silver is finished in glittering silver and is available in manual transmission for just £7,999*.
Dah sekian. Gua nak g buat jualan rumah ke rumah sebab gua dengar ramai lepak rumah je hari ni.
-Matpon-