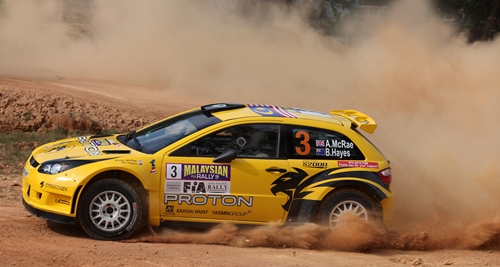 Dengan dua kemenangan daripada tiga pusingan serta mendahului kategori pemandu dan pengeluar di dalam Kejohanan Rali Asia Pasifik [APRC], Proton akan menyertai Rali Antarabangsa Whangarei di New Zealand pada hujung minggu ini dengan sasaran untuk mendominasi mata sebagai peneraju musim 2011.
Proton mendapat tempat kedua di New Zealand tahun lepas dan dengan kemenangan Chris Atkinson di New Caledonia baru-baru ini, pasukan yakin untuk meraih podium sekali berdasarkan pakej baru pada kereta Satria Neo S2000 yang menjadikannya lebih kompetitif.
Rali Whangarei bakal bermula pada Jumaat dengan 16 peringkat perlumbaan [SS] yang merangkumi 301.90km jarak perlumbaan dalam masa tiga hari. Walaupun litar di sana rata dan mesra kereta berbanding venue APRC lain namun suhu dan cuaca yang tidak menentu merupakan cabaran utama buat pemandu dan pasukan. Selekoh yang lebar pula membolehkan pemandu melontar kereta mereka dengan laju.
-Mak/d Uia-
Matpon: You know what this means? This going to be an exciting race? You know race haram? But this is not race haram. Today is Friday. Sekian.